Private and Confidential
July 2005
The following sections are now delivered through Astraea. The links below will take you to those sections.
Perspective
It had been some time since a developed economy suffered a jolt like Madrid. Although we might have expected the G8 to dominate news and views in July, the bombings in London changed our focus. This month's Perspective is offered from two world famous thought leaders ...
The Answer Is Still Peace, posted by Deepak Chopra on July 08, 2005 at 01:01 AM
The terrorist attack in London today has once again created deep anguish in our collective soul...
Around the world people yearn to find peace and give solace to the suffering and bereaved. Once again the clash of polarized enemies clamors for attention. Al-Qaeda takes pride in this heinous and sordid crime, while Western nations seek to bring the terrorists to justice. Yet it would be naive to take the simple way out and call this an example of pure evil and depravity.
In a very real way we are all part of the London tragedy. Everyone is caught in the tangled web of social injustice, economic disparities, ecological disaster, war, and terrorism. Unless we accept this fact, we will continue with our madness of an eye for an eye, a tooth for a tooth. Mahatma Gandhi declared that if we continue on this path the whole world would go blind. Will we ever see through our blindness and create a global community of connected humanity? To promote peace today means promoting a critical mass of consciousness where violence is never an option.
London, like the attacks in Madrid, Bali, and Indonesia before it, should make us want to live for peace above all. I understand how it's possible to respond to terrorism with deep anger; I cannot understand responding to it with anger that goes on and on forever. There are causes behind every terrorist act and therefore hope that these causes can be changed, even as we continue to pursue justice. We still ignore the source of global instability: religious fundamentalism which has its roots in extreme poverty, where 50% of the world lives on $2 per day, 20% of it on less than $1 per day, a world where 8 million people die each year because they are too poor to survive.
Terrorism also festers because of a lack of education, toxic nationalism, ignorance about the outside the world, and deep economic disparities. Twenty thousand children died yesterday of hunger-related causes around the world, twenty thousand will die today, and twenty thousand tomorrow. That is not part of the evening news. Why not?
Nature abhors a deep imbalance. The human species has become the most dangerous predator on our planet. Nature might be saying to herself, "Human beings were an interesting experiment that didn't work, so let's move on." Or, perhaps, our self awareness has reached a turning point. as Inside ourselves we've always carried the seeds of creativity. The next creative leap isn't a mystery. Millions of people are ready to join in harmonious interaction with Nature--and with our own complex inner nature--to create a world of peace, harmony, laughter and love. Let us strengthen our intention to create that critical mass of peace consciousness. Every tear can be a drop of nourishment for the new world that wants to be born and is making itself known little by little, every day. Each one of us can help create this critical mass by becoming the embodiment of peace consciousness through peace practices :
Being Peace
Thinking Peace
Feeling Peace
Speaking Peace
Acting Peace
Creating Peace
Sharing Peace
Celebrating Peace.
Posted by Deepak Chopra on July 08, 2005 at 01:01 AM
Chopra supports the Alliance for the New Humanity which is committed to connecting and strengthening the synaptic network of the emerging planetary mind. If you care to contribute to waging peace, please consider the Peace Conference in September which is promoting the adoption of a Peace Department by the US government.
The process of change through which human society and culture is swimming is not new (although the pace is faster than ever and the critical mass for emergence is close). Gustave Le Bon, writing The Psychology of Crowds in 1895, could have been commenting today:
The present epoch is one of these critical moments in which the thought of mankind is undergoing a process of transformation.
"Two fundamental factors are at the base of this transformation. The first is the destruction of those religious, political, and social beliefs in which all the elements of our civilization are rooted. The second is the creation of entirely new conditions of existence and thought as the result of modern scientific and industrial discoveries.
The ideas of the past, although half destroyed, being still very powerful, and the ideas which are to being still very powerful, and the ideas which are to replace them being still in process of formation, the modern age represents a period of transition and anarchy."
Investment, Finance & V. C.
The increase in global liquidity is being recognised by more commentators. There is a glut of cash which is not going into investment. Some may be spilling over into consumption which would make economic figures look better than the situation deserves. Spending may boost GDP, but if it is at the expense of investment, there will be lower quality and fewer assets with which to build income in coming years. Since 2002 American firms have had a net financial surplus of 1.7% of GDP compared with a net deficit of 1.2% of GDP in the previous 2 decades. The cash is not being put to use by the companies, it is being used for Mergers & Acquisitions and returned in dividends. Technology firms are particularly cash rich: MS $ 38 billion, Intel $ 16 billion, HP $ 14 billion, Motorola $ 11 billion, Dell $ 10 billion, Oracle $ 9 billion; the total of all tech companies is $ 230 billion. So companies are not investing for the future and this weakens competitiveness.
Japan's lower house of parliament has narrowly approved plans to privatise the country's huge postal system. It won't happen for a year or so, but it is a significant milestone in the increasing competitiveness of Japan's economy. The move is set to create the world's largest bank, as Japan Post controls 350 trillion yen ($3.2 trillion) in savings and insurance funds. Under the proposed reforms, Japan Post would be split into four entities in 2007 in the hope of stimulating competition. Its savings and insurance arms would have to be sold by 2017.
This year's ranking of global brands by Interbrand is as follows: Coca-Cola - $67.5bn (US), Microsoft - $59.9bn (US), IBM - $53.4bn (US), General Electric - $50bn (US), Intel - $35.6bn (US), Nokia - $26.5bn (Finland), Disney - $26.4bn (US), McDonald's - $26bn (US), Toyota - $24.8bn (Japan), Marlboro - $21.1bn (US).
The London market dropped 4.5% after the bombs on London but had regained 4% by the following morning. Investor resilience certainly improved since 9/11 and backup IT solutions (see section below) kept the markets open.
There was discussion of CEO pay as some rather exciting numbers were released. In the 1970s, the average real annual compensation of the top U.S. 100 chief executives was $1.3 million, 39 times higher than that of the average U.S. worker. In 2005, it is $37.5 million - or over 1,000 times the pay of the average worker. Median salaries for CEO 2004 (salary+cash bonus only) are

US - $2.3 million
UK - $1.2 million
France - $857,000
Japan - $317,864
India - $88,117

The Wall Street Journal has suggested outsourcing the top job would be a viable option for reining in CEO's pay.
One observer asked: "Is it really possible to justify $500k a week? Though we have little problem nowadays labelling historical figures such as the Rockefellers et al. as Robber Barons - hardly terms of endearment or praise - what's so different here? Morgan Stanley is certainly an august institution of some stature, and benefits society, by and large, but if a business is able to justify such grotesquely inflated compensation, by dint of the fact that it makes such fantastic profits from its activities, is it unreasonable to think that the business must be profiting through usury...? That their gain is somebody else's loss?"

This inequality is also reflected in the general population as the share of income going to the top 1% has doubled since the 1970s to 14.4%. From 1979 to 200 the income of the poorest fifth of US households increased 6%, the income of the richest fifth by 70%! And by some measures social mobility is now lower than in Europe! Income inequality in America is now on a par with developing economies - that can not be good for the future. And the way out is not a short term fix, but improvement in education so that opportunity is spread wider and not restricted to Ivy League and friends. (The Economist published an excellent report on America here which highlights the challenges of a divided society.)

Another indicator of an improving German economy came to our attention. Foreign investors, including US and Japanese, are buying portfolios of poorly performing loans and restructuring them. This was difficult for the German banks to do because their relationship with clients is longstanding and fundamental. It is easier for foreign operators to turn the screw.
Along with the gentle adjustment to China's currency, July saw the release of a report by the National Audit Office of the budget and government finances. The auditor-general seems to have the backing of the government although the report is not complimentary, detailing nearly $ 10 billion in missed funds. This is very encouraging and points to a very rapid acceleration of governance standards in China. You should expect the transformation to be measured in years, not decades as might be the case elsewhere.
Responsible Investing
Former Worldcom boss Bernard Ebbers has been sentenced to 25 years in jail for fraud and conspiracy for his part in the $11 billion accounting fraud at the company three years ago. Ebbers, aged 63, begins what is effectively a life sentence at a federal prison near his home in Mississippi. The judge said that Ebbers "was clearly a leader of criminal activity in this case." and that "A sentence of anything less would not reflect the seriousness of the crime." The collapse of Worldcom saw around 20,000 workers lose their jobs, while shareholders lost about $ 180 billion. Avoiding this is what responsible investing is all about.
Companies persistently flouting environmental laws could be given anti-social behaviour orders (Asbos), the UK's pollution watchdog has argued. The Environment Agency said the use of Asbos could be an effective deterrent against environmental crime. A firm was issued with an Asbo - used typically to tackle yobbish behaviour - for the first time last year. The government said some firms were guilty of anti-social behaviour but stressed they were a small minority. Business groups said they were sceptical about the use of Asbos against companies and urged The Environment Agency not to "overstretch itself" in its enforcement of standards. "Restricting the ability of some persistent offenders to operate may be the only way of protecting the public and the environment from risk" Baroness Young, Environment Agency chief executive. Those fined included Pizza Express and Gatwick Airport. According to the agency, an Asbo was imposed last year to prevent a plant hire business from repeatedly incinerating skips of rubbish rather than getting rid of the waste legally. The agency feels the sanction - which stops an individual from engaging in anti-social behaviour - might be more effective than fines in tackling illegal dumping and other actions harmful to the environment. It would be used when a firm had been convicted of an environmental crime and would apply to all employees not just directors.
New Jersey will divest an estimated $ 1 billion in pension funds from companies doing business in Sudan. The legislation behind the divestment takes effect August 1st. Illinois recently passed similar legislation but it does not take effect until next January.
China, a country with spectacular economic growth - averaging almost 10 per cent a year over the past quarter century - faces enormous environmental challenges. Issues range from energy and water scarcity to air pollution and soil erosion. The continuing growth needed to satisfy the aspirations of its 1.3 billion people and the trend of multi-national companies moving their production facilities to China pose a serious threat to the environment. Due to the scale of their environmental impact, the consequences are felt worldwide. After research and consultation with academics and business executives in China, the WBCSD's Young Managers Team 2004 China work stream concluded that the key to a sustainable China is raising awareness through education. You may download WBCSD's presentation pack: "Perspectives: Corporate responsibility and business success in China": Report ( 948 kb), presentation material pdf ( 1.6 MB) ppt ( 7.3 MB).
Venture Capital
The bankruptcy of Atkins is somewhat interesting as a LOHAS or nutrition story, but real investment lessons may be learned because its demise is hurting a well-known VC investor - Parthenon. The company was bought at a high valuation in late 2003 by Parthenon Capital and Goldman Sachs Capital Partners, it skyrocketed in paper value and then crashed due to competition, poor business focus and the realisation that sandwiches taste best with bread. Parthenon over-committed to a company whose business model relied on a passing fad, but more than that, they paid $200 million for the privilege of doing so.
Thomson Venture Economics and the National Venture Capital Association released US venture capital and LBO fund performance data through the end of Q1 2005. The high returns on LBO funds for 1 year compared with historical performance suggest that returns may take a hit soon. Perhaps the short term high returns are driven by capital overhang pressure, which will evaporate as overpricing becomes apparent.
Venture Economics' US Private Equity Performance Index (PEPI)
Investment Horizon Performance through 03/31/2005

| | | | | | |
| --- | --- | --- | --- | --- | --- |
| Fund Type | 1 Yr | 3 Yr | 5 Yr | 10 Yr | 20 Yr |
| Early/Seed VC | 1.4 | -5.5 | -8.6 | 45.8 | 19.8 |
| Balanced VC | 5.8 | 1.2 | -4.2 | 17.0 | 13.0 |
| Later Stage VC | -0.4 | 0.6 | -6.6 | 15.2 | 13.7 |
| All Venture | 3.6 | -1.4 | -6.3 | 25.4 | 15.6 |
| Small Buyouts | 24.1 | 5.4 | 1.6 | 8.7 | 26.7 |
| Med Buyouts | 17.8 | 4.3 | -3.2 | 10.6 | 17.7 |
| Large Buyouts | 16.8 | 9.6 | 0.9 | 10.9 | 14.5 |
| Mega Buyouts | 20.6 | 9.0 | 2.7 | 7.7 | 9.7 |
| All Buyouts | 19.8 | 8.5 | 1.8 | 8.7 | 13.0 |
| Mezzanine | 8.5 | 3.7 | 1.8 | 6.9 | 9.2 |
| All Private Equity | 14.0 | 5.3 | -0.5 | 12.5 | 13.8 |
| NASDAQ | 0.3 | 2.7 | -15.3 | 9.4 | 11.4 |
| S & P 500 | 4.8 | 1.0 | -4.7 | 9.0 | 10.8 |

*The Private Equity Performance Index is based on the latest quarterly statistics from Thomson Venture Economics' Private Equity Performance Database analyzing the cashflows and returns for over 1750 US venture capital and private equity partnerships with a capitalization of $585 billion. Sources are financial documents and schedules from Limited Partners investors and General Partners. All returns are calculated by Thomson Venture Economics from the underlying financial cashflows. Returns are net to investors after management fees and carried interest. Buyout funds sizes are defined as the following: Small: 0-250 $Mil, Medium: 250-500 $Mil, Large: 500-1000 $Mil, Mega: 1 Bil +
Mid Atlantic Biodiesel Company, LLC broke ground this month on a five million gallon per year facility in Clayton, Delaware that will produce biodiesel from virgin soy bean oil as well as waste vegetable oils and animal fats. The first large-scale biodiesel production plant in the Northeast/Mid Atlantic region. New Energy provided equity capital, along with other investors, for the $10 million project and worked closely with the developer, Rural Enterprise Management Company (REMCO), LLC, to secure financing. Greater Atlantic Bank of Reston, Virginia provided a loan for the facility. The U.S. Department of Agriculture provided a loan guarantee and grant; the State of Delaware also provided financial support.
Also, alternative energy company, Seattle Biodiesel has $ 2 million series A funding.
It seems that the clean-tech/energy-tech space is taking off. CalPERS is finally ready to make good on its promise to support funds focused on the space.
The observation of cash surplus mentioned above and the resultant decline in innovation is complimented by research that indicates that the best source of innovation is not these tech oriented companies themselves but VC backed innovation. The average innovation initiative success rate is 4.5%, with the highest non-VC being pharma at 7.5%, while the VC success rate is over 30%. A very powerful indicator that a VC investment partner can make or break the success of a venture. Research also shows that successful innovation is enhanced by new approaches including networked decision making, open space, parallel decision making and flat organisational structures.
Toyota announced that it would open a new $800 million (CAN) plant in Ontario. Apparently the company turned down millions of dollars in subsidies in the United States because, when compared to Canadians, U.S. workers have become too hard to train, are often illiterate and too expensive to insure. This is a dangerous sign of declining US competitiveness.
Interest Rates and Currencies
China has begun the process of liberalising its currency by removing its fixed relationship to the US$ and relating it to a basket of currencies still being designed. The Yuan appreciated by 2%. This move is clever - it allows a gradual emergence of the currency to full exchangeability and will placate some of the exaggerated demands for liberalisation , such as those of the US and its Treasury Secretary John Snow. This will allow a more gentle management of the economy and trade tensions, but do not expect that it will solve the US deficit problems. This clever move displays the experience of China and the world should remember the Chinese proverb "What you can not avoid, welcome!".
Greenspan continues to be upbeat on the US economy and we can expect continued increases in the base rate, now at 3.25%. In July he noted three threats to continued growth: oil prices, wage inflation, and sectors of the economy such as housing which are exposed to interest rate risk. The Federal Reserve is widely expected to raise interest rates by 0.25% to 3.5% - its tenth monthly increase in a row when it next meets month in an effort to keep a lid on inflationary pressures while maintaining growth.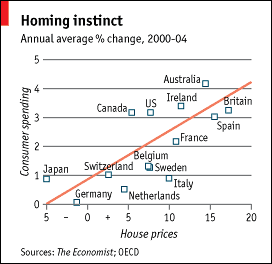 The US economy has racked up another quarter of growth, despite fears that rising fuel costs would dampen activity. GDP grew at an annual rate of 3.4% in the three months to June, according to the Commerce Department. Despite slowing from 3.8% between January and March, it was the ninth consecutive quarter of growth above 3%. Consumer spending, the driving force behind the US economy, was up 3.3% in the three months, compared with 3.5% in the previous quarter. Spending on durable goods such as cars and refrigerators jumped 8.3%. This is driven by the increase in house prices which are beginning to look bubblicious in some areas.
Although the US economy is looking good, our concerns about foreign debt and retail credit are now joined by another spectre - unemployment. The US economy created 146,000 new jobs in June, taking the unemployment rate down to a four-year low of 5%. However, recent research indicates that there may be as many as 5 million people missing from the unemployment figures who have evaporated from the work force because they have been unemployed long term, especially among younger people. This nearly doubles the unemployment rate suggesting that either there are serious problems in the US economy or that traditional economic assumptions are not appropriate and need to be reworked.
Italian Prime Minister Silvio Berlusconi launched an attack on the euro blaming Europe's single currency for Italy's economic woes, saying "Italy is not at a disastrous point, but I can say that Prodi's euro screwed us all," trying to score points against his opponent in the run up to the campaign for next year's general election. A spokesman for the EU Commission said, "The euro is here to stay and will stay. Hundreds of economic studies clearly demonstrate that the introduction of the euro has been clearly beneficial for the economy."
Trade and FDI
Negotiators are set to miss yet another deadline in their attempt to reach a new world trade deal. The deal is already some two years behind schedule, and the World Trade Organization is hoping for results at a make-or-break meeting in December. But there seems little prospect of a draft emanating from the current talks. Developing countries say richer states are still pushing them too hard for concessions in what was originally billed as a "development round". India has been one of the main critics. "What we are seeing now is developed countries saying: tell us what we will get, and then we will tell you what we will give you," Indian Trade Minister Kamal Nath told Reuters news agency. Other countries have singled out the US, the European Union and Japan for refusing to open their agricultural markets and lessen high subsidies paid to farmers. The rich states say they are moving in the right direction, and need more market access to be granted by the bigger developing states such as India, China and Brazil. The Open World Initiative (OWI) network of The Evian Group focusses on these trade issues and has issued an appeal to trade ministers, which is linked here with signatories, and you may read and circulate.
The case was eloquently put in a letter in the FT of 20 July by Marshall Stocker:
"Sir, In his commentary on the World Trade Organisation ("Waning expectations", July 18), Alan Beattie accurately details the dilemma that stymies progress in the Doha round of trade negotiations. Each nation is afraid to dispose of protective tariffs and subsidies for fear other nations will not reciprocate. Discomfort with unilateral trade liberalisation is grounded in the classic prisoner's dilemma such that each nation believes it will gain only when other nations liberalise.
Fortunately, in 1817, one of Britain's great sons - David Ricardo - dispelled this trade myth. He showed in his theory of comparative advantage that benefits that come from unilateral trade liberalisation far exceed costs.
Folks, this is economics 101. As the Doha round nears an end, trade representatives must discard the politics and accept the economics. Embracing the benefits of unilateral trade-liberalising is the only way to spring us from our prisoner's dilemma.
Marshall L. Stocker, Sanderson Stocker, Ithaca, NY
The House of Representatives approved the Central American Free Trade Agreement (CAFTA) by 217-215. The vote is a major victory for President Bush and the Republican House leadership. However, it comes at the expense of increased partisanship and mounting disarray in the conduct and management of US trade policy.
Activities, Books and Gatherings
July was a month of new learning. We ran a yoga intensive locally, YogArt, a week long programme for young people and a week long intensive transformation work shop. The transformation workshop is a new programme developed and refined for executives and entrepreneurs which is innovative - fortunately the feedback indicates that we deliver the promise! We know we're on the right track with comments like "I felt parts of my body that I didn't know exist", "it helped me think in totally new ways", and "it'll take me two weeks to come down!". The July programme was a 5-day retreat which is a good beginning. We also designed a 3-day Executive programme, with input from executives on the Retreat, wherein an emphasis is allowed for Integral Technology. Please let me know how we can design a course to help you - the programme is excellent value.
Unfortunately, leisure reading was rather curtailed during the month. Not only did we launch three new training programmes but it is the height of summer and everything is growing in the garden. Its ironic that everyone gets "summer reading lists" because regular work doesn't go away but the harvest season provides another tranche of activity to eat up leisure. Nevertheless, Pratchett's Moving Pictures, a wonderful parody of Hollywood, was enjoyed on a few evenings.
This report has been prepared for information purposes and is not an offer, or an invitation or solicitation to make an offer to buy or sell any securities. This report has not been made with regard to the specific investment objectives, financial situation or the particular needs of any specific persons who may receive this report. It does not purport to be a complete description of the securities, markets or developments or any other material referred to herein. The information on which this report is based, has been obtained from publicly available sources and private sources which may have vested interests in the material referred to herein. Although GRI Equity and the distributors have no specific reasons for believing such information to be false, neither GRI Equity nor the distributors have independently verified such information and no representation or warranty is given that it is up-to-date, accurate and complete. GRI Equity, associates of GRI Equity, the distributors, and/or their affiliates and/or their directors, officers and employees may from time to time have a position in the securities mentioned in this report and may buy or sell securities described or recommended in this report. GRI Equity, associates of GRI Equity, the distributors, and/or their affiliates may provide investment banking services, or other services, for any company and/or affiliates or subsidiaries of such company whose securities are described or recommended in this report. Neither GRI Equity nor the distributors nor any of their affiliates and/or directors, officers and employees shall in any way be responsible or liable for any losses or damages whatsoever which any person may suffer or incur as a result of acting or otherwise relying upon anything stated or inferred in or omitted from this report.