Entrepreneur and Business Resources
Integral Methods and Technology
Governance and Investor Responsibility
Private and Confidential
October 2005
The following sections are delivered through Astraea. The links below will take you to those sections.
Perspective
In October a couple of issues kept presenting themselves. Do I want truth or justice? Can you be an atheist Christian? It seems difficult to come to terms with these zen like dilemmas, and others like them, that face humanity. But they are the fulcrum upon which humanity is deciding its future. We prefer truth and justice, which usually means that results take longer. And we see many atheists who behave in a way that Jesus of Nazareth would respect. It is also painfully obvious that many people succumb to the psychology of tyranny in which they express a group value ("go to war") which is directly opposed to their personal value ("do not kill"). It is unfortunate that the hegemon USA has allowed religion (in contrast to spirituality) to enter government. The country was established by people intent on equity, but recent events have led to the breakdown of responsibility at the highest levels. Most other countries are guilty of the same complacency, but nature and public opinion will hopefully wake us up and help us be the change that we need to be.
Bush has claimed he was told by God to invade Iraq and attack Osama bin Laden's stronghold of Afghanistan. This was part of a divine mission to bring peace to the Middle East, security for Israel, and their own state for the Palestinians. The President made the assertion during his first meeting with Palestinian leaders in June 2003, according to a new BBC series aired in October. In the programme, Elusive Peace: Israel and the Arabs, the former Palestinian foreign minister Nabil Shaath says that Mr Bush told him and Mahmoud Abbas, former Prime Minister and now Palestinian President, that "I'm driven with a mission from God. God would tell me, 'George, go and fight those terrorists in Afghanistan.' And I did, and then God would tell me, 'George, go and end the tyranny in Iraq,' and I did." And "now again, I feel God's words coming to me: 'Go get the Palestinians their state and get the Israelis their security, and get peace in the Middle East.' And by God, I'm gonna do it." Mr Abbas remembers how the President told him he had a "moral and religious obligation" to act. Striking also was Mr Bush's unrelenting portrayal of radical Islam as a global menace, which only the forces of freedom, led by the US, could repel. It was delivered at a moment when the President's domestic approval ratings are at their lowest ebb, in large part because of casualties in the war in Iraq.
Geopolitics
Bush is beset on many fronts such as the disappointing and failed Miers nomination, the White house leak investigation which is probing Dick Cheney, Lewis Libby and Carl Rove, the deathtoll in Iraq passing 2,000, and economic pressure. HIs approcal rating has sunk to around 40%. So far the cracks in his administration are mainly with the conservative intelligensia, but if sentiment spreads it would cripple the administration.
From a global perspective, the behaviour of the Empire of America is causing a shift in sentiment. As one commentator says:
the image of the US is no longer the statue of liberty, but the prisoners of Abu Ghraib

a hegemon has to be perceived not just as benevolent, but competent, and the adminisatration fails catastrophically on the competence test
Francis Fukuyama says that Bush has done enormous harm to the US, though asserts that his "doctrine" will not be followed by any future administration, whether Democrat or Republican. All one can hope is that the damage will not be irreparable.
Germany is continuing its emergence as an enlightened society and culture. Gerhard Schroder, who was seen as a breath of fresh air when he took over from Kohl, is now stepping back as Angela Merkel appears ready to take over a large coalition government. The evolution of this proces has taken place in a measured and stable way and is all good for Germany and Germans. The worst that will happen is that the coalition will hold together but do little. The opportunity is to introduce more variety and opportunities in Germany for all.

A recent paper by Philippe Aghion of Harvard and Peter Howitt of Brown has made two exciting suggestions. They say that appropriate development strategies are dependent on the stage of emergence of an economy, which suggests that planners, policy makers and analysts should be more sophistcated in determining strategy. They also say that growth is not always good and that periods of rejuvenation and reorientation are beneficial and should be incorporated and managed. An example might be the development of a country's industrial profile in which old infrastructure must be destroyed and replaced such as the replacement of Europe's textile industry as manufacture is exported to lower wage environments and domestic labour reorients to local specialist manufacture or services.
Investment, Finance & V. C.
The investment outlook is not buoyant, although there are no major tremors that pressage a debacle. The general economic environment is under pressure from rising interest costs and moderating demand, illustrated by falling consumer confidence (from 105 in July to below 90 now). With price benchmarks well valued there is not room either in multiple or in fundamental performance that will boost the market. We are considering strategies for investment in a modest 2006 market.
Ben Bernanke, currently head of Bush's Council of Economic Advisers and a former Fed governor, has been nominated to succeed Alan Greenspan as US Federal Reserve chairman. Bernanke has been well received as a competent, experienced Fed governor whose approach and policies are close enough to Greenspan's to expect a smooth transition. Mr Bernanke is an advocate of "inflation targeting" - an approach widely adopted in Europe - under which central banks set a target for inflation and stick to it. Greenspan believes central banks should keep markets guessing on how tough they would be on inflation. Bernanke will however have a tough job as the economy is stretched, demand is moderating. Also increasingly the gloabl economy moderates the impact of Fed actions and complicates analysis. Mr Greenspan will end his 18-year tenure January 31 2006.
Intellectual property rights are a key part of many businesses today. But they are becoming couterproductive to innovation and testing the bounds of ethics, as well as having their economics questioned. The growth of open technology in high tech spheres like computing and bioscience are the brightest illustration that the economics of intellectual property rights are questionable. The greatest danger is that nature will be compromised by hasty use of "patented" seed because moral hazard presses a company like Monsanto to spread use of their genetically engineered seeds despite evidence that they destroy productive systems (eg horseweed in California, red millet in India). Fortunately a call has been made by a group of leading scientists, legal scholars, artists and experts from around the world, who have issued the Adelphi Charter in a bid to bring intellectual property rights under control. A principal feature of the charter is a public interest test. It is a welcome step in the right direction. The unfolding story has implications for business heavily invested in technology and for portfolio planning. The Economist published a survey of patents and technology on 22 October which provides an up-to-date precis of issues.
The US budget deficit shrank to $319 billion last year as better economic conditions boosted tax revenues. Despite falling from 2004's record $412 billion figure, the federal deficit for the fiscal year ending last month was still the third highest on record. The 2005 fiscal year deficit amounted to 2.6% of GDP, below the 3.6% recorded in 2004 and the post World War Two high of 6% in 1983. This year's deficit is likely to be swelled by $ 30 billion of spending on post-Hurricane Katrina reconstruction.
A study by the Ifo Rresearch Institute found that Germany's business climate index hit a five-year high of 98.7 in October, up from 96 a month earlier, further suggesting the recovery in Europe's largest economy may be strengthening.
China Construction Bank, known by locals as "China Corruption Bank" in honour of its jailed former Chairman Wang Xuebing (who's offences were actually committed at Bank of China), had its $ 8 billion IPO at the end of October indicating the bubbly nature of the quest for Chinese bank stocks. The market cap is around $ 66 billion making it more valuable than American Express, Barclays, or Deutsche Bank! Technically insolvent a few years ago, bad loans may have been taken out but, even if so, there is little evidence that practices have changed. We continue to urge caution in the headlong rush to buy Chinese banks, especially since foreigners have been promised full market access from 2007 under China's WTO commitments. The next mega-sale is Bank of China expected to have a foreign listing in early 2006.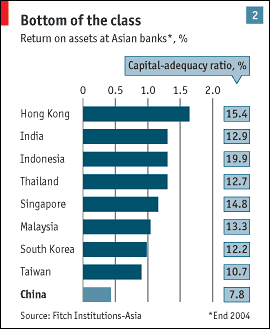 Another bank deal is the proposed purchase by Deutsche Bank AG and Sal. Oppenheim jr. & Cie. of a combined 14% stake in China's Hua Xia Bank for € 272 million. This is the first major purchase of a stake in a Chinese bank by a German financial institution and further extends foreign participation in China's financial system beyond the country's top tier banks. The two German lenders will buy a total of 587.2 million shares from 18 Hua Xia shareholders; the deal will give Deutsche Bank a 9.9% stake in Hua Xia, while Sal. Oppenheim, Europe's largest independent private bank, will have 4.1%. Fitch Ratings estimates that Deutsche Bank and Sal. Oppenheim paid 2.1 times book value for Hua Xia, higher than the 1.2 times book value that foreign investors have paid for minority stakes in Bank of China and CCB.
So far this year, foreign banks have spent $ 10.3 billion to acquire shares in Chinese banks, according to Dealogic. The major deals have swirled around China's big four banks: Industrial & Commercial Bank of China, Bank of China, China Construction Bank and Agricultural Bank of China.
As these charts from the Economist show, a fundamental view of the banking system is not reassuring.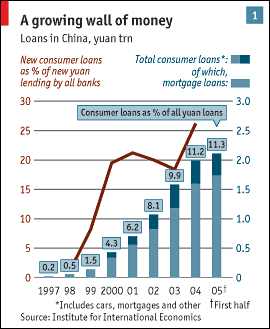 While business is good, consumer loans have increased by about 6x in 6 years, the bank system foundation appears shaky. If this is a bubble pumped up by foreign banks and investors, the Chinese won't mind. Foreign money will pay for the learning curve of the Chinese banking system when conditions deteriorate. Caveat emptor.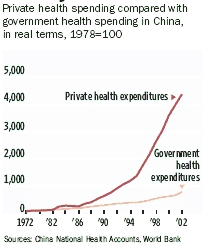 The health sector may be more interesting to pursue. This chart shows how spending on private health care is skyrocketing.
A host of reports emerged that suggested that India is becoming a more attractive investment destination than China.
In China, a widening income gap between town and country is worrying officials and will have implications for market analysis and development. But in India, the gap is narrowing and this is a virtuous circle which stimulates opportunities. A WBCSD reports that in 1990, for every $100 earned by an Indian villager, an urbanite made $82 more. Today, the difference has dropped to $56. Though in India, 390 million people still live on $1 a day or less. What is changing is the nature of the rich-poor divide. That divide was once synonymous with the urban-rural split. The only way to get rich was to live in town, and to reside in the country was to be bound to interminable poverty. But increasingly, the rural economy is a microcosm of the national economy, with its own rich and poor. The rural rich are 1,000 times as likely as the rural poor to own a motorcycle, 100 times as likely to own a color television and 25 times as likely to own a pressure cooker, according to a survey of 96,000 rural households by the research council. That distribution of wealth may or may not be equitable. But in creating the possibility of making it in rural India itself, the new rural prosperity is transforming rural India's image from economic nonentity to emerging market within the emerging market. India's 700 million villagers now account for the majority of consumer spending in the country, more than $100 billion a year. Millions step into consumerism each year, graduating from the economics of necessity to the economics of gratification, buying themselves motorcycles, televisions, transistor radios and pressure cookers. Diverse forces are fueling the trend. The government has invested billions of dollars in development, including road building and rural electrification, and has forced banks to lend to farmers. Good monsoons have helped farmers' profits. Widening educational access has helped farmers' children to get city jobs and send money home. With the private sector booming, industry and services have overtaken farming to account for 54 percent of rural income.
Also in India, Sanjiv Gupta, former Coca-Cola India CEO, and Kishore Biyani, founder of Indian retailer Pantaloon, reportedly are forming a private equity firm focused on the retail space suggesting that they see booming opportunities in this space. This contrasts with a deteriorating retail environment in Europe and the US.
Microfinance is an emerging niche which we believe exhibits an attractive risk/return profile. A well attended gathering, including Stanley Fischer and Kofi Annan, was sponsored by Cassin in October. Papers are available online here.
Responsible Investing
Enron Risk hit the headlines in October. Another telling tale of woe is the story of Refco, a New York-based independent futures brokerage, which typically posts over $1 billion in annual revenue and around $20 billion in managed assets, imploded in October. Refco chairman and CEO Phillip Bennett admitted to having hidden $430 million in debt owed to the company. The scam involved a holding company controlled by Bennett, and apparently had been going on since he took the reigns in 1998. Bennett has been arrested and charged with securities fraud. It is a sorry story because bad apples at the top of the barrel have caused distress for everyone in the group, as well as other stakeholders. (More from a VC perspective below.)
Another hedge fund debacle also hit the news in October with the SEC probe of Wood River Capital Mabagement. Caveat emptor.
Whole Foods has said it will open its first lifestyle store in late October on Santa Monica Boulevard, West Hollywood. The new store is likely to be smaller than its food stores (typically around 50,000 sq ft) and will offer products such as organic blue jeans, recycled handbags and environment-friendly paints and household products. The clothing offer is expected to include the Edun line by U2's Bono. A selection of world music, sustainable living books and magazines will also be available. Neil Currie, a retail analyst with investment bank USB commented: "The opening of this store is interesting. It is showing that Whole Foods is thinking of ways it can build strong brand equity. It's a sensible approach and a low-risk way of the company testing out a new concept to move into new product categories."